v0.8 released! Final puzzle + in-game hint system
---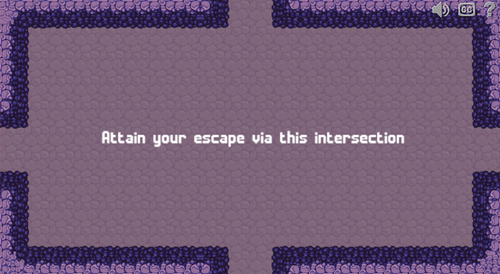 v0.8 Changelog
The final puzzle
An in-game hint system
A HUD in the upper right to manage sound on/off, captions on/off, get a hint, and quit
Nerf/clarify south puzzle based on player feedback
This version has been a long time coming because I didn't want to foist the devious final puzzle on you poor players without including the in-game hint system, which was more work than I expected because of the UI issues entailed. I wanted to make it slightly annoying but not too annoying to get a new hint, but easy to review past hints, all without breaking immersion too much.
The HUD and the hint system enabled me to take the Game Designer's Vow of Silence and remove the instructions from the tutorial area. Once v1.0 is ready, I can remove the "Thanks for testing, here's what I need" text too.
It seems to be working well now, but it needs lots of testing to weed out the useless hints and add hints to help players who think differently!
So have at, and give me all the feedback you can muster!
Enjoy, and good luck!
<3
Pace
EDIT v0.8.1: Based on the feedback of players who were having a hard time figuring out the controls, I temporarily broke the vow of silence in the intro text. I'll fix it in a principled way in the next version.
EDIT v0.8.2: An improvement to the south puzzle to avoid a superstition (thanks, Thunder33345!)
EDIT v0.8.3: An improvement to the west puzzle to avoid a superstition (thanks, personman!)
EDIT v0.8.4: An improvement to the south puzzle to avoid a confusing/misleading word (thanks, Guilherme Töws, Jack K & Sergio Cornaga!)